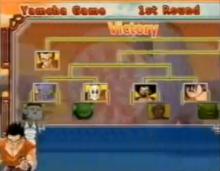 Yamcha Game is a tournament mode in Dragon Ball Z: Budokai Tenkaichi 3. In this mode the character, custom and color will be chosen randomly. The final fight is against Yamcha. Completing this mode on the Level 2 difficulty will unlock the Evening desert stage for battle in other modes in the game. The playable character Fasha is unlocked after completing this mode on the Level 3 difficulty.
The Yamcha Game can be seen as a parody of the Cell Games, another tournament mode in Budokai Tenkaichi 3.
Ad blocker interference detected!
Wikia is a free-to-use site that makes money from advertising. We have a modified experience for viewers using ad blockers

Wikia is not accessible if you've made further modifications. Remove the custom ad blocker rule(s) and the page will load as expected.