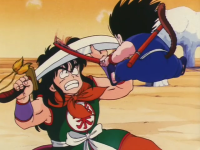 Yamcha's sword is the blade Yamcha uses when he first appears in Dragon Ball. It is a Chinese Liuyedao (柳叶刀, "Willow Leaf Saber").
He uses this blade to combat against Goku's Power Pole. Yamcha releases his sword after Goku hit him in the stomach with the Power Pole. This happens in both Dragon Ball and Dragon Ball: Curse of the Blood Rubies.
The sword can be seen in Yamcha's hideout in the video game Dragon Ball Z: Attack of the Saiyans. It is also a treasure that can be found in the first stage of Dragon Ball: Revenge of King Piccolo. His sword can also be seen in Dragon Ball: Origins and Dragon Ball: Origins 2.
Ad blocker interference detected!
Wikia is a free-to-use site that makes money from advertising. We have a modified experience for viewers using ad blockers

Wikia is not accessible if you've made further modifications. Remove the custom ad blocker rule(s) and the page will load as expected.