Fanon
This is a Fanon article.
The Ultra Kamehameha is used by Goku in his Legendary Super Saiyan 5 form.
Appearance
Edit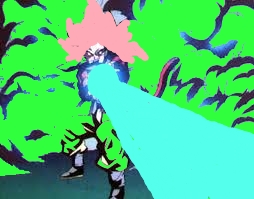 The Ultra Kamehameha technique is a bright turquoise color. First, the user forms the Kamehameha position. Then, as they charge the blast, it forms the Ultra Kamehameha. The Ultra Kamehameha can deal a lot of damage to the opponent.
The Ultra Kamehameha was invented by Goku in his Super Saiyan 5 form. It was used against Supea Gogeta, Supea Goku, Supea Vegeta and none other than Supea.
When Goku was pushed in his Super Saiyan 4 limit, he exploded with anger and turned into a Legendary Super Saiyan 5. After easily keeping up with Supea Vegeta, he decided to end it and use his Ultimate Attack, the Ultra Kamehameha! After this deadly encounter, Goku could easily transform into this form. He battles many other enemies whilst in this form. For example:
Ad blocker interference detected!
Wikia is a free-to-use site that makes money from advertising. We have a modified experience for viewers using ad blockers

Wikia is not accessible if you've made further modifications. Remove the custom ad blocker rule(s) and the page will load as expected.