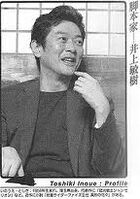 Toshiki Inoue (井上 敏樹, Inōe Toshiki; born on November 28, 1959) is a Japanese screenwriter from Saitama Prefecture. He is known for his work on anime and tokusatsu dramas and films. He is the son of Masaru Igami, who himself was a screenwriter for tokusatsu dramas.
Toshiki Inoue was discovered by Keizo Shichijo in 1985, and began working on Dr. Slump for episode 29. He later worked on Dragon Ball, Dragon Ball Z, and Dragon Ball Kai.
Outside of Akira Toriyama's mangas, Toshiki Inoue worked on Bomberman Bidaman Bakugaiden, Case Closed, Dark Cat, Death Not, Dennō Coil, Devil May Cry, Dragon Drive, Drum Knuckle, Fist of the North Star, Fullmetal Alchemist, Galaxy Angel Z, Grander Musash, Iron Man, Kamen Rider, Kiba, Kindaichi Shounen no Jikenbo, Legend of Duo, MapleStory, Mashin Eiyuden Wataru, Master Keato, Ninja Scroll, Obatarian, Panyo Panyo Di Gi Charat, Ranma ½, Sumomomo Momomo, Urusei Yatsura, Witchblade, Yawara!, and Yu-Gi-Oh!
Ad blocker interference detected!
Wikia is a free-to-use site that makes money from advertising. We have a modified experience for viewers using ad blockers

Wikia is not accessible if you've made further modifications. Remove the custom ad blocker rule(s) and the page will load as expected.