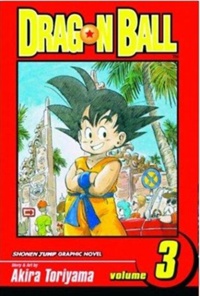 The Training of Kame-Sen'nin (天下一武道会はじまる!!, Tenkaichi Budoōkai Hajimaru!!; lit. "The Tenkaichi Budokai Begins!!") is the third volume of the original Dragon Ball manga series written by Akira Toriyama. It was released on June 10, 1986 in Japan and on March 2003 for the English version. It covers the beginning part of the Tournament Saga.
Characters
Edit
Main characters
Edit
Supporting characters
Edit
Differences from the anime
Edit
The scenes in which Yamcha trained before the Tournament are not present in the manga.
Ad blocker interference detected!
Wikia is a free-to-use site that makes money from advertising. We have a modified experience for viewers using ad blockers

Wikia is not accessible if you've made further modifications. Remove the custom ad blocker rule(s) and the page will load as expected.