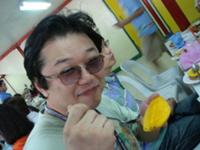 Tadayoshi Yamamuro (山室直儀) is a Japanese animator and character designer. He is the Dragon Ball Z, Dragon Ball GT, and Dragon Ball Heroes character designer. He is known for his straight style, as opposed to his predecessor's rounded style, and he is recognized as the best animator and illustrator for the series.
Biography
Edit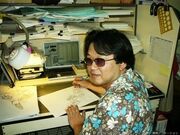 Tadayoshi Yamamuro debuted his career working on animated movies such as Angel's Egg (1985) and Laputa: Castle in the Sky (1986). He became a main character designer for Dragon Ball Z after Minoru Maeda left Toei Animation, at the end of the Perfect Cell Saga in November 1992, a role that he shared with Katsuyoshi Nakatsuru until the end of Dragon Ball GT in November 1997. Yamamuro has been animation director for the Dragon Ball Z episodes 122, 127, 133, 137, 143, 147, 152, 157, 162, 168, 173, 185, 200, 206, 232, 242, 249, 255, and 285. And for the Dragon Ball GT episodes 13, 19, 25, 31, 40, 42, 48, 52, and 59.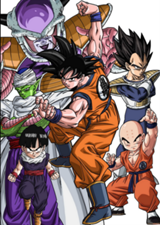 Tadayoshi Yamamuro worked on the movies Dragon Ball: Mystical Adventure, Dragon Ball Z: The Tree of Might, Dragon Ball Z: Broly - The Legendary Super Saiyan, Dragon Ball Z: Bojack Unbound, Dragon Ball Z: Broly - Second Coming, Dragon Ball Z: Bio-Broly, Dragon Ball Z: Fusion Reborn, Dragon Ball Z: Wrath of the Dragon, Dragon Ball: The Path to Power, Dragon Ball: Yo! Son Goku and His Friends Return!!, Dragon Ball: Plan to Eradicate the Super Saiyans and Dragon Ball: Episode of Bardock. He also drew cover arts for the movie Dragon Boxes and for video games.
Outside of the Dragon Ball franchise, Tadayoshi Yamamuro worked on Beet the Vandel Buster, Casshern Sins, Digimon, One Piece Film Strong World, Superflat Monogram, and Toriko. He is the character designer and chief animation director of the 2008 GeGeGe no Kitaro anime adaptation.
External links
Edit
Ad blocker interference detected!
Wikia is a free-to-use site that makes money from advertising. We have a modified experience for viewers using ad blockers

Wikia is not accessible if you've made further modifications. Remove the custom ad blocker rule(s) and the page will load as expected.