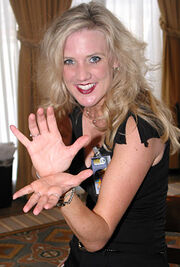 Stephanie Nadolny (born on May 19, 1972 in Memphis, Tennessee) is a voice-over artist who has worked for FUNimation Entertainment and ADV Films. In the Dragon Ball franchise, she is best known as the English voice for young Goku and Gohan in the FUNimation Dub of the series. Though her list of roles is somewhat small compared to other voice actors, her work has still been extensive, due to Goku and Gohan being such prominent characters. However, she did not reprise her role of Gohan for Dragon Ball Z Kai and was replaced by fellow voice actress Colleen Clinkenbeard.
Voice Filmography
Edit
Anime Series
Edit
Beet the Vandel Buster as Additional Voices
Case Closed Opening 2 Singer
Dragon Ball Z as Kid Gohan, Teen Gohan, Baby Trunks, East Kai, Angela, Gohan's High School Teacher; Additional Voices
Dragon Ball GT as Kid Goku, Ending 1 Singer
Fruits Basket as Ari; Additional Voices
Gravion as Captain Faye Xin Yu
Hakugei - Legend of Moby Dick as Atre
Kanon as Alarm Clock, Track Team Girl 2, Track Girls, Classmates, Chatty Girls, Kimono Girls, Waitress; Additional Voices
Kiddy Grade as the singer for the opening and ending theme songs
Parasite Dolls as Eve
Yu Yu Hakusho as Additional Voices
Anime Films
Edit
Video Games
Edit
Ad blocker interference detected!
Wikia is a free-to-use site that makes money from advertising. We have a modified experience for viewers using ad blockers

Wikia is not accessible if you've made further modifications. Remove the custom ad blocker rule(s) and the page will load as expected.