Directory: Characters → Villains → Movie villains
Salza (サウザー, Sauzā) is Cooler's top henchman and leader of Cooler's Armored Squadron under the planet trade organization. He has a special maneuver called the Salza Blade, which is an energy blade and a forcefield that resembles a lightsaber from the Star Wars franchise. He also has a technique where he fires a blast from each finger, the Scatter Finger Beam.
Biography
Edit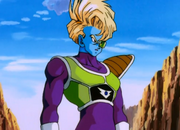 Salza is from the same solar system as Jeice, from a planet named Coola No. 98 (formerly planet Brench). His planet's very high gravity helped him develop into a very fast and agile fighter. Salza is also very intelligent, he is capable of speaking 7,000 languages and is stated to be the genius of his planet. To become leader of the Armored Squad, Salza was in competition with Ginyu. He is also among the few people who have seen Ginyu's true form.
Cooler's RevengeEdit
On Earth with Cooler, Salza successfully takes down Gohan and Krillin. After his comrades Neiz and Doore are executed by Piccolo, he fights against the Namekian himself. Salza decides to attack Piccolo with his Salza Blade Technique, but the Namek quickly gains advantage over him. Luckily for Salza, Cooler shows up and defeats Piccolo, ordering Salza to go after Gohan. Salza follows Gohan and destroys the bag containing the Senzu Beans. He then battles Krillin and Gohan and defeats them with ease. When Goku recovers from his injuries and witnesses Cooler blasting Piccolo, Salza takes the opportunity to punch a stunned Goku in the face, but to no effect, as Goku does not even flinch and sends Salza crashing against a mountain, simply by expelling his power's aura. After Cooler is defeated, Salza emerges from the rubble, having survived Goku's earlier retaliation, ready to exterminate what remained of the surprised and battle-weary Goku, Gohan, and Krillin, but from afar, Piccolo shoots a Special Beam Cannon straight through him, finally killing Salza.
Fusion RebornEdit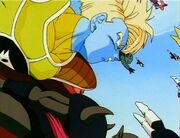 Along with countless other Dragon Ball antagonists, Salza makes a cameo appearance in the film Fusion Reborn when the residents of Hell make their escape to Earth.
The color of Salza's spandex is slightly different in this movie, it is changed from purple to yellow.
Power level
Edit
It is stated in the 1991 Weekly Shonen Jump no. 25 that Salza's power level is 170,000.
Techniques and special abilities
Edit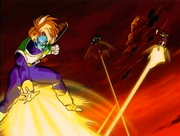 Video games appearances
Edit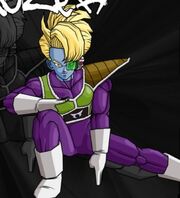 Salza made his first appearance in a video game in the 1992 game Dragon Ball Z III: Ressen Jinzōningen.
In Dragon Ball Z: Supersonic Warriors 2, Cooler can summon him to attack his opponent with his Salza Blade.
Salza made his first appearance as a playable character in Dragon Ball Z: Budokai Tenkaichi 2. He later appeared as a playable character in Dragon Ball Z: Budokai Tenkaichi 3, Dragon Ball: Raging Blast 2, and in the arcade game Dragon Ball Heroes. In Budokai Tenkaichi 3, Salza has special dialogue when fighting members of the Ginyu Force: if he fights Guldo, Guldo will say "This time, I'm going to annihilate you!", hinting they have had a previous encounter. If he fights Jeice, Jeice says "We're going to settle this once and for all!", while Salza replies "It's over for you!".
Voice actors
Edit
References
Edit
Cite error: <ref> tags exist, but no <references/> tag was found