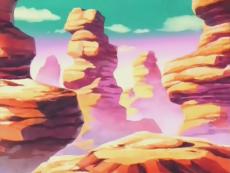 Gizard Wasteland (ギザード荒野) is a rocky wasteland on Earth, located northeast of Paprika Wasteland. It is where Goku led Vegeta to for their battle in the Vegeta Saga.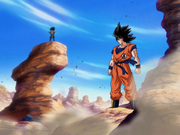 It is a very wide, rocky place located north of Paprika and Break Wastelands.
Gizard Wasteland was named in the video game Dragon Ball Z: Attack of the Saiyans. Enemies encountered here in this game are C. Sai, Saibaman, Dark Condor, Fire Dinosaur, Bandit King and Bandit Queen.
This Rocky Area is a battle stage in Dragon Ball Z Arcade, the Butōden series, Dragon Ball Z: Idainaru Son Goku Densetsu, Dragon Ball Z 2: Super Battle, Dragon Ball Z: Legendary Super Warriors, the Budokai series, the Budokai Tenkaichi series, Dragon Ball Z: Supersonic Warriors 2 (called Wilderness), and the Raging Blast series. It also appears in the story of Dragon Ball Online. It is also a battle stage in Dragon Ball Heroes.
Ad blocker interference detected!
Wikia is a free-to-use site that makes money from advertising. We have a modified experience for viewers using ad blockers

Wikia is not accessible if you've made further modifications. Remove the custom ad blocker rule(s) and the page will load as expected.