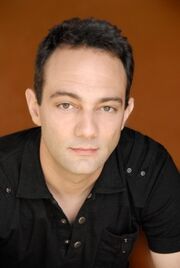 Michael Charles "Mike" McFarland (Born July 14, 1970) is an American actor, director, writer, voice actor, improv comedian, and musician. He voiced, most notably, the characters of Master Roshi and Yajirobe in the FUNimation Dub of Dragon Ball and Dragon Ball Z. He then voiced Baby during Dragon Ball GT. He also did the voice of the match announcer in Dragon Ball Z: Burst Limit, as well as Dodoria on Dragon Ball: Raging Blast.
Mike McFarland also was the ADR Director for the first two seasons of the remastered dub. He also directed two of the Dragon Ball films: Dragon Ball Z: Broly - The Legendary Super Saiyan and Dragon Ball: The Path to Power.
Ad blocker interference detected!
Wikia is a free-to-use site that makes money from advertising. We have a modified experience for viewers using ad blockers

Wikia is not accessible if you've made further modifications. Remove the custom ad blocker rule(s) and the page will load as expected.