Lobo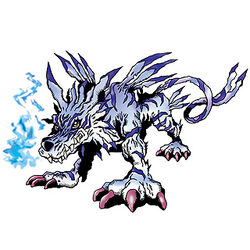 Wolf
Lobo is a Wolf. Lobo is the Portuguese name for wolf. He is covered in blue, white, and silver-colored fur as hard as "Mithril", which is called a legendary rare metal, and since the blades growing from the tips of its shoulders have sharp edges, anything that touches them is cut to pieces. As it possesses a furious combat instinct and sinews honed in freezing lands, as well as carnivore-like agility and the accuracy to reliably bring down its targets, it is a being feared by other Animals. However, its intelligence is very high.
Ad blocker interference detected!
Wikia is a free-to-use site that makes money from advertising. We have a modified experience for viewers using ad blockers

Wikia is not accessible if you've made further modifications. Remove the custom ad blocker rule(s) and the page will load as expected.