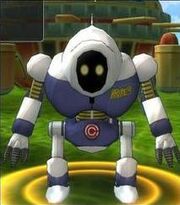 Hope! is the robot who accompanies Time Patrol Trunks in the computer game Dragon Ball Online. He accompanies Time Patrol Trunks and the player on their mission to stop Miira and the Time Breakers.
Hope! is very similar to Giru.
Ad blocker interference detected!
Wikia is a free-to-use site that makes money from advertising. We have a modified experience for viewers using ad blockers

Wikia is not accessible if you've made further modifications. Remove the custom ad blocker rule(s) and the page will load as expected.