Gohan vs. Cell is the thirty fourth volume of the original Dragon Ball manga series. It is released in North America as Dragon Ball Z Volume 18 with the chapter count restarting back to one.
Characters
Edit
Main Characters
Edit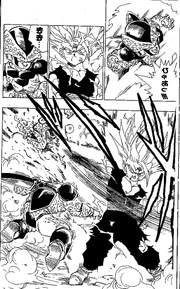 Supporting Characters
Edit
Chapter #
Title
397
(DBZ 203)
"Cell vs. Son Goku"
398
(DBZ 204)
"Full Power"
399
(DBZ 205)
"The Highest Level"
400
(DBZ 206)
"Ring Out"
401
(DBZ 207)
"Kamehameha Full Power"
402
(DBZ 208)
"Last Resort"
403
(DBZ 209)
"The Successor"
404
(DBZ 210)
"Go, Gohan!"
405
(DBZ 211)
"The Rage of Son Gohan?"
406
(DBZ 212)
"#16's Secret Weapon"
407
(DBZ 213)
"The Little Cells"
408
(DBZ 214)
"Gohan Unleashed"
Ad blocker interference detected!
Wikia is a free-to-use site that makes money from advertising. We have a modified experience for viewers using ad blockers

Wikia is not accessible if you've made further modifications. Remove the custom ad blocker rule(s) and the page will load as expected.