Directory: Characters → Villains
Garlic is a character in the Dragon Ball Z universe. He is mentioned in the movie Dragon Ball Z: Dead Zone, and later in the Garlic Jr. Saga.
Biography
Edit
Garlic competed with the Nameless Namekian for the throne of Guardian of the Earth. The Namekian was chosen over Garlic because unlike the Namek, Garlic held evil ambitions that soon became apparent to the previous Kami. Garlic resented the decision, and created an army of evil demons which he led right to Kami's Lookout in order to overthrow him. According to Kami, his predecessor cast Garlic and his demons into the realm of darkness called the Dead Zone, a negative space from which he would never return.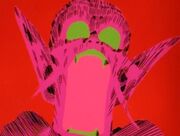 However, in Dragon Ball Z: Dead Zone and the Garlic Jr. Saga, a flashback recaps the scene of Garlic forcefully trying to take the throne, revealing that Garlic was sealed in a Dark Crystal in a similar fashion that Kami and Mr. Popo were captured and contained in clear bottles by Garlic Jr.. One may infer that Garlic was kept in that crystal for the remainder of his life. It is possible that the crystal is somehow connected to the Dead Zone, thus all who are sealed in it are trapped within the Dead Zone forever.
Techniques and special abilities
Edit
Flight – Considering him equal to Kami, Garlic would have been able to fly.