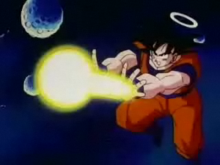 Energy Waves (エネルギー波, Enerugī-ha), or Ki Waves (気功波, Kikōha), are generic terms for numerous techniques in the Dragon Ball franchise. They make their debut with the Kamehameha in "The Kamehameha Wave", the 8th episode of the Dragon Ball anime, which premiered on April 16, 1985. They make their first manga appearance with the same technique in "Kame Kame Kame Kame Kame Chameleon", the 14th chapter of the Dragon Ball manga, issued on January 10, 1984. Such techniques have since made appearances in almost every video game spun off by the series. In Japanese, Piccolo and Gohan call their energy waves Makōhō (魔光砲; lit. "Devil Light Cannon"). In the English verison of the Dragon Ball manga, Goku refers to his energy wave as a "fireball". In the renactment of the Cell Games, Energy Waves are referred to as "fireballs".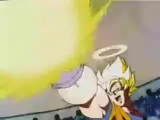 In essence, energy waves are a type of technique where their user utilizes an assortment of ki-based waves, cast from (but not limited to) their palms, nose, fingertips, eyes, body, or mouth. The color of the aura they emit varies between users (for example, Kamehamehas launched by various users have ranged in color between blue, red and yellow). The most commonly seen energy waves in the series are the Kamehameha and Continuous Energy Bullets. Some of these waves can also home in on their targets, and with enough energy, their power, speed, force and size can be augmented. These attacks are capable of being improved as their users' concentrations becomes more adept or they assume some type of transformation. The user sould be able to have full control of the beam or the beam can go anywhere as seen when Goten's version of the Kamehameha did it while fighting Trunks.
List of energy waves
Edit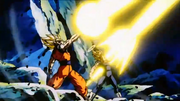 Beam Blades
Edit
Flash and Kill
Lightning Sword Slash
Beam Waves
Edit
Explosive Waves (Ground Zero Explosion)
Edit
Self-destruction (Kamikaze/suicide)
Edit
Semi-Fatal
Edit
Ki Blasts
Edit
Blaster Bursts
Edit
Explosive Impact
Edit
Ki Explosion
Edit
Ki Breath
Edit
Continuous/Rapid Fire Blasts
Edit
Discs/Rings
Edit
Death Balls (Planet Destroyers)
Edit
Spirit Bombs
Edit
Other Ki Forms (Beings/Objects)
Edit
Ad blocker interference detected!
Wikia is a free-to-use site that makes money from advertising. We have a modified experience for viewers using ad blockers

Wikia is not accessible if you've made further modifications. Remove the custom ad blocker rule(s) and the page will load as expected.