In Japan, 1,000 lucky V-Jump readers got Dragon Ball Z 2 V, a revamped version of Dragon Ball Z: Budokai 2 with Cooler included.
All of the characters were already unlocked, but the capsules were preset. The logo for the game was slightly changed. In addition to a "V", mostly likely to emulate the "V" in V-Jump, Cooler poses near the "D" in Dragon Ball Z.
The manual for the game is the cover, but in manga style. The manual resembled the 2002-2005 remake covers of the Dragon Ball manga. This version of Budokai 2 served as a bridge for Dragon Ball Z: Budokai 3.
Playable characters
Edit
New Characters
Edit
New What-If Characters
Edit
Differences between Budokai 2Edit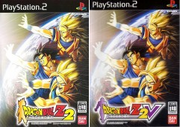 This is considered the rarest Dragon Ball video game, since only 1,000 people own an original copy of it.
This is the first game in the Budokai series that does not include "Budokai" in its title. The other one being Dragon Ball Z: Infinite World and Dragon Ball Z: Burst Limit
When changing Frieza's costume, if you select Cooler, his name changes to "クウラ", Cooler's Japanese name respectfully. However when changing to Kuriza his name remains "フリーザ" (Frieza's Japanese name) instead of changing to "クリザ" (Kuriza's).
Using the "Metal Capsule" makes Frieza appear in his Mecha Frieza form, Cooler in his Meta-Cooler form, and Kuriza in his Final Form.
Ad blocker interference detected!
Wikia is a free-to-use site that makes money from advertising. We have a modified experience for viewers using ad blockers

Wikia is not accessible if you've made further modifications. Remove the custom ad blocker rule(s) and the page will load as expected.