Dragon Ball Z: Budokai HD Collection is a fighting video game collection for the PlayStation 3 and Xbox 360. It will be released in the U.S. on October 9, 2012 and in Europe on October 12, 2012.
The game is an HD collection that features both Dragon Ball Z: Budokai 1 and Dragon Ball Z: Budokai 3 enhanced and re-mastered in HD, alongside full Trophy and Achievements support. The graphics of Budokai 3 HD are similar to those of Dragon Ball Z: W Bakuretsu Impact. Both included games have entirely new soundtracks and sport the optional original Japanese language track.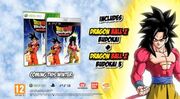 Game information was first leaked on a Spanish retailer website Xtralife.es. It was also shown on the GameSpot pre-order list, and release dates for Europe and America were later announced. The game was officially revealed in July 2012, during the Japan Expo convention in France. Budokai HD Collection is set to release around the time of Dragon Ball Z For Kinect, in winter 2012.
Budokai 1 featuresEdit
Face off with up to 23 mighty DBZ warriors.
60 moves per character including the Kamehameha.
Fierce fighting modes including Story, Duel & World Match.
Follow the Dragon Ball Z anime from the Saiyan Saga to the Androids Saga.
Includes the authentic Japanese voiceover cast.
Budokai 3 featuresEdit
More than 40 characters from Dragon Ball Z, movies and Dragon Ball GT.
Character customization.
Saiyan Overdrive Fighting System bringing the speed, cinematic attacks and combos, airborne acrobatics and intensity of the Dragon Ball Z anime.
Share character profile passwords for other players to use.
Includes the authentic Japanese voiceover cast.
Ad blocker interference detected!
Wikia is a free-to-use site that makes money from advertising. We have a modified experience for viewers using ad blockers

Wikia is not accessible if you've made further modifications. Remove the custom ad blocker rule(s) and the page will load as expected.