Dragon Ball SSSS (SSSS stands for "Saikyō Super Saiyan Secret") is a project launched by Bandai, in conjunction with V-Jump and Saikyō Jump, in November 2011.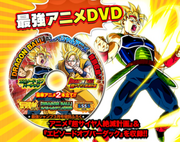 This project has been conceived "in order to take the first step towards new developments and further expansions of the Dragon Ball titles." More concretely, the project included the online and free streaming of the movie Dragon Ball: Plan to Eradicate the Super Saiyans on V-Jump's website and the anime adaptation of Dragon Ball: Episode of Bardock, also streamed online and free in December 2011.
The March 2012 issue of the magazine Saikyō Jump will be packed with a DVD that contains both movies.