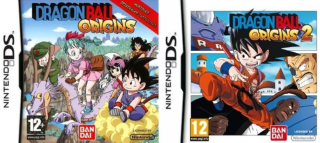 The Dragon Ball: Origins series is a series of action-adventure video games based on Dragon Ball, developed by Game Republic and released on the Nintendo DS. The series consists of Dragon Ball: Origins (2008) and Dragon Ball: Origins 2 (2010). The Japanese version of Dragon Ball: Origins 2 contains an emulated ROM of the first Famicom game of the Dragon Ball franchise, Dragon Ball: Shenron no Nazo.
Dragon Ball: Revenge of King Piccolo, developed by Media Vision and released in 2009 for the Nintendo Wii, is very similar to those two games and also includes elements from Dragon Ball: Advanced Adventure (developed by Banpresto).
Ad blocker interference detected!
Wikia is a free-to-use site that makes money from advertising. We have a modified experience for viewers using ad blockers

Wikia is not accessible if you've made further modifications. Remove the custom ad blocker rule(s) and the page will load as expected.