Directory: Characters → Villains → Movie villains
Doore is a member of Cooler's Armored Squadron under the Planet Trade Organization. Long-haired, always seen with a helmet, and vaguely "Hulk"-like in appearance, he accompanies Cooler along with the rest of his team to Earth in the hunt for the Saiyan that defeated Frieza.
Biography
Edit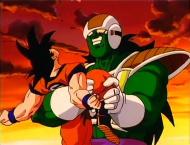 Doore has a blood-thirsty personality. He is from planet Coola No. 256 (formerly planet Beppa). Because the continents of his home planet are surrounded by lava, he has an extremely tough body. He uses this physique to become a wrestler in the Galactic Pro Wrestling League. He was undefeated in 300 matches, but he killed all of his opponents during the match.[1]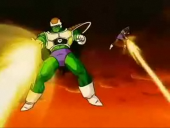 Doore and the other member of the Armored Squadron are assigned to finding Goku so his master can acquire vengeance in accordance to Frieza's failure. Finding Gohan, he grabs his tail thinking he is Goku. Later, he appears to attack Gohan and this ensues a fight between Piccolo, who soon thereafter kills him with a homing energy blast as Doore tries to chase Gohan.
Apparently, he does not know (or at least forgot) that Planet Namek was destroyed until he meets Piccolo, as he asks why Piccolo is not on his homeworld where he belongs, to which Neiz reminds him that Frieza blew it up.
Power level
Edit
It is stated in the 1991 Weekly Shonen Jump no. 25 that Doore's power level is 185,000.
Techniques and special abilities
Edit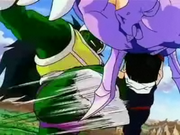 Video game appearances
Edit
Doore first appeared in a video game in the 1992 game Dragon Ball Z III: Ressen Jinzōningen. In this game, he is the boss of Act4 and Krillin, Yamcha, Tien Shinhan and Chiaotzu must save all the people Doore and his men have captured until they can fight him.
In Dragon Ball Z: Supersonic Warriors 2 for the Nintendo DS, Cooler can summon Doore to fire energy blasts at his opponent. Doore later made his debut as a playable character in Dragon Ball: Raging Blast 2. He also appears as a playable character in the arcade game Dragon Ball Heroes.
Voice actors
Edit
References
Edit
Cite error: <ref> tags exist, but no <references/> tag was found