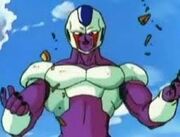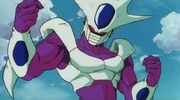 "It is I who decides who lives and who dies! All living things are mere playthings to me! No one can comprehend my power and cunning!" — Dragon Ball Z: Cooler's Revenge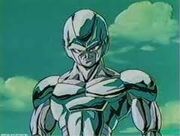 Cooler is the main villain in the fifth and sixth movies of the anime Dragon Ball Z: Cooler's Revenge and Dragon Ball Z: The Return of Cooler. He is the older brother of Frieza , and the eldest son of King Cold. Much like his brother, he can push his body through tranformations to increase his power. Although only two forms are seen (the last two), it is stated in the fifth film that Cooler possesses the same number of forms Frieza does, as well as a fifth and more powerful form, which he uses to combat Goku. Also like his brother, Cooler gains a bio mechanical final form, but is gained from merging with the Big Gete Star. Cooler's appearance in his base form is similar to that of Frieza's Final Form, though Cooler's skin is deep-purple as opposed to the pure white of his brother. Cooler is also much taller than Frieza, being roughly the same height as Goku. Along with this, Cooler has a distinctively more masculine appearance than that of Frieza, being quite muscular. Cooler also sports several armor-like carapaces on his chest, shoulders, shins and head; these are apparently natural given how they too change when he transforms.
When he transforms however, his body undergoes great changes as opposed to his base form, his chest and muscle-mass has expanded greatly, to a degree similar to that of Frieza's Second Form. His white carapace also changes, with the breast-plates shoulderpads becoming hoop-like in shape, while the white carapaces on his wrists change drastically, gaining dark-blue sections and procuring blade-like protrusions. Perhaps Cooler's most distinguishing characteristic in this form however is the change in the carapace he has on his head, which in this form completely encases his entire head except for his eyes, his mouth being covered behind something reminiscent of a vizier, four spikes extend from his cranium and there is a large dark-blue section in the middle of his head.