Carrot Top

Chapter Details

Chapter #:
17
Volume:
2
Kanji Title:
オヤブンの得意技
Rōmaji Title:
Oyabun no Tokui Waza
Translated Title:
Carrot Top
Release Date:
January 10, 1986
English Release:
March 2003
Saga:
Emperor Pilaf Saga
Corresponding Anime episode(s):
9
Previous:
One Goal, One Enemy
Next:
Who's Got My Balls?!
Carrot Top (オヤブンの得意技, Oyabun no Tokui Waza) is the seventeenth chapter of the Dragon Ball manga. The chapter's anime counterpart is the second half of the episode "Boss Rabbit's Magic Touch".
The cover depicts Bulma, Yamcha, Oolong, and Puar riding in a car which says "Dragon Ball" on the side. Goku rides alongside on his Kinto'un. Bulma and Yamcha have guns drawn, while Goku holds the Power Pole.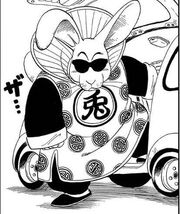 While Goku, Oolong, and Bulma are confused, the citizens of the village they are in flee inside their houses in horror. The two members of the Rabbit Mob that Goku defeated before get up, and one reassures the other by saying that he called "the boss." Bulma asks who the boss is, but the Rabbit Mob members simply say that they will be nibbled. Oolong suggests fleeing, but immediately afterwards Monster Carrot arrives in his bunny car. The two mob members identify Goku as their assailant as Bulma mocks Monster Carrot and Yamcha and Puar watches the scene from behind a house.
Monster Carrot, rather than being hostile, offers to shake Bulma's hand. Yamcha immediately remembers his power, but Bulma slaps Monster Carrot's outstretched hand before he can do anything. Bulma turns into a carrot. Outraged, Goku jumps out of the car to attack. Oolong quickly cautions him to use the Power Pole so that he will not get turned into a carrot as well. Seeing that his magic touch will not work, Monster Carrot threatens to bite into Bulma if Goku continues to attack. Oolong takes the opportunity to flee.
With his threat still in place, Monster Carrot orders his two mob members to beat up Goku. Yamcha and Puar decide to come to the rescue; Puar turns into a bird and steals Bulma from Monster Carrot's hand while Yamcha defeats the Rabbit Mob members. Able to fight back freely, Goku smacks Monster Carrot on the head and forces him to turn Bulma back into a human. Finally, Goku uses the Power Pole to take Monster Carrot and the Rabbit Mob members to the moon to make marshmallow treats for children.
Appearance
Edit
Characters
Edit
Locations
Edit
Ad blocker interference detected!
Wikia is a free-to-use site that makes money from advertising. We have a modified experience for viewers using ad blockers

Wikia is not accessible if you've made further modifications. Remove the custom ad blocker rule(s) and the page will load as expected.