==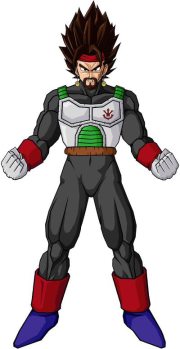 Bargeta== Bargeta is a dragon ball fanon character, it is the result of Bardock and King Vegeta's fusion. Because Bargeta is not wearing portara earings, that means that Bardock and King Vegeta must have used the fusion dance. It is unknown how they learned the fusion dance. If they did use the fusion dance, and become bargeta, then they may had have a better chance at stopping Freiza from almost completely destroying the saiyan race.
Possible Attacks and Moves
Full Power Energy Wave
Final Revenger
Eplosive Wave
Final Spirit Cannon
Last Riot Javelin
Execution Beam
Orga Blaster
Super Energy Wave Volley
Ad blocker interference detected!
Wikia is a free-to-use site that makes money from advertising. We have a modified experience for viewers using ad blockers

Wikia is not accessible if you've made further modifications. Remove the custom ad blocker rule(s) and the page will load as expected.