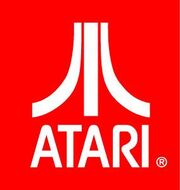 Atari is a corporate and brand name owned by several entities since its inception in 1972. It is currently owned by Atari Interactive, a wholly owned subsidiary of the French publisher Atari SA (ASA).
The original Atari Inc. was founded in 1972 by Nolan Bushnell and Ted Dabney. It was a pioneer in arcade games, home video game consoles, and home computers. The company's products, such as Pong and the Atari 2600, helped define the computer entertainment industry from the 1970s to the mid 1980s.
Recently, Atari's top-selling titles have been the Dragon Ball Z games based on the popular anime license from Toei Animation in Japan. These include the Dragon Ball Z: Budokai series of games for next-generation console systems and the Dragon Ball Z: The Legacy of Goku series of games for the Game Boy Advance. These games have topped the best-seller charts for numerous console platforms since the release of Atari's first Dragon Ball Z game, The Legacy of Goku in 2002, which was the first Dragon Ball game to be made by an American company, Webfoot Technologies, and is one of the best-selling Game Boy Advance games of all time (#16). The best selling Budokai series is developed in Japan by Dimps and includes Dragon Ball Z: Budokai, Dragon Ball Z: Budokai 2 and Dragon Ball Z: Budokai 3). Atari is also releasing Dragon Ball Z: Budokai Tenkaichi and its sequel, Dragon Ball Z: Budokai Tenkaichi 2 which is a separate series from the Budokai series. Following the success of the Budokai and Legacy of Goku series, Atari has released numerous other Dragon Ball titles including Dragon Ball Z: Supersonic Warriors, Dragon Ball Z: Supersonic Warriors 2, Dragon Ball Z: Sagas, Dragon Ball GT: Transformation, Dragon Ball: Advanced Adventure and Super Dragon Ball Z.
In July 2009, Atari lost its gaming license to Namco Bandai, which went on to publish the Dragon Ball: Raging Blast series.
Ad blocker interference detected!
Wikia is a free-to-use site that makes money from advertising. We have a modified experience for viewers using ad blockers

Wikia is not accessible if you've made further modifications. Remove the custom ad blocker rule(s) and the page will load as expected.