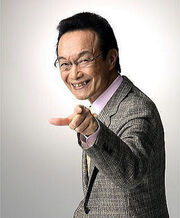 Akira Kamiya (神谷 明, Kamiya Akira; born on September 18, 1946, in Kanagawa Prefecture, Yokohama) is a Japanese voice actor. He has been represented by Theater Echo, Aoni Production, and others. He is currently represented by Saeba Shoji.
He voiced Garlic Jr. in Dragon Ball Z: Dead Zone, but did not voice him in the filler Garlic Jr. Saga of Dragon Ball Z.
Ad blocker interference detected!
Wikia is a free-to-use site that makes money from advertising. We have a modified experience for viewers using ad blockers

Wikia is not accessible if you've made further modifications. Remove the custom ad blocker rule(s) and the page will load as expected.